Discover which photos of yourself you should (or shouldn't) be using online.
as seen in:

Let's get started! It's free
Choose your profile photos using hard data
('Cause we live in the future)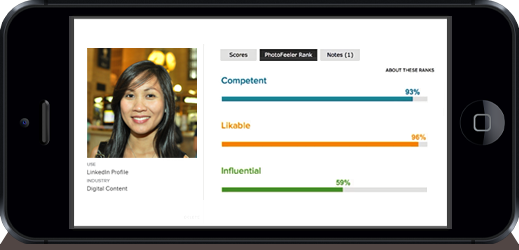 How smart, likable, fun, or trustworthy are your photos compared to average?

We can tell you this and more, so you always choose photos that make your best impression online— from LinkedIn to Match.com.

Uplifting Community
Users give feedback to others in exchange for feedback on their own photos. We think of it as a "pay it forward" approach. (Though for the busiest among us, there is the option to pay for feedback instead.)

Smart Insights
Community members often leave notes on photos, opening your eyes to things you wouldn't have thought of yourself— like that your expression looks guarded, or that holding a pen shows that you're left-handed.

Real Science
Our community opinions are matched with patent-pending, accuracy-boosting algorithms, to ensure you get useful results— not a mathematical fluke based on a few extreme opinions.
What users are saying
"I used Photofeeler to test portraits for my website, FB, Twitter and LinkedIn. I asked friends what they thought about them, but the answers went in all directions. At the same time I tested them on Photofeeler and got a quick and clear answer on which one is best. It is a useful tool and I like its simplicity." - Joost van Diepen
"... I put the new picture on LinkedIn. After (really!) one day someone was calling me for a job. In one week 3 headhunters asked to make a connection." - Erik M
"PhotoFeeler is not just a great service, it's a true eye-opener for how we see ourselves compared to how people see us." - Bashar N
More than a million responses and counting

Join us! It's quick, easy, and free